Connect with your social network account
FS: Brake Cooling Components
I have stainless steel backing plates for sale. I bought them months ago, but now I'm boosting my engine and I want to direct airflow to my intercooler instead. These plates look just like the ones on Turner Motorsport listed for $249.95.
"These allow you to duct fresh, cool air to the center of the rotor where it needs it most. The addition of these backing plates and appropriate ducting will increase brake pad life by as much as 50%! A cooler braking system will also dramatically reduce brake fade and decrease braking distances." And according to Bimmerworld they also prevent fluid boil, rotor ware, and rotor warp.
I bought these from a fellow r3ver who bought them from Bimmerworld for $199.99:
http://store.bimmerworld.com/brake-cool ... s-p45.aspx
I will sell them for
$150 OBO
because they are used.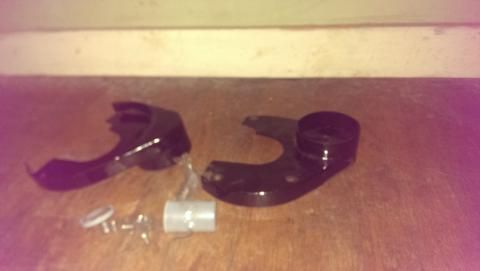 These are just the plates and hardware. I can include the ducts and hoses that you need as well, these can be had for cheap.
These install very easily, remove three bolts holding on your dust shield then cut it off. These backing plates are designed to slide over your wheel hub so that there's no need to remove them. Although, if you're planning on replacing the bearings, you don't even need to cut off the OEM dust shield.
Edit: Price does not include shipping. Pm or email at
makeshifte30@gmail.com
.